COPPER MIRROR FINISHED TANDOOR
We are involved in manufacturing and exporting superior quality copper mirror finished tandoors, which are manufactured using top quality materials and innovative technology. With a mirror finish, the tandoor looks elegant and is more suitable for outdoor catering. Available at affordable prices, it is durable, functional and beautiful. Clients can choose from different shapes, sizes and designs and can enjoy cooking a variety of food items.
This mirror finish, elegant looking tandoor is best suited for outdoor catering purposes. Looks, coupled with durability and quality, make this tandoor a star product. It is available in different shapes with varying tops and finishes. With an outer casing of copper, it comes with the double insulation for high temperature resistance. You can use these tandoors for live outdoor catering and can use both gas and charcoal as fuel. We can also supply you an LPG fitted tandoor.
Our Copper Mirror Finished Tandoor is highly portable and is easy to install and use. With durability and long lasting finish, the tandoor is available in varied specifications and with an optimum finish. Available in different sizes and capacities, we can also supply these tandoors in custom designs and in custom sizes.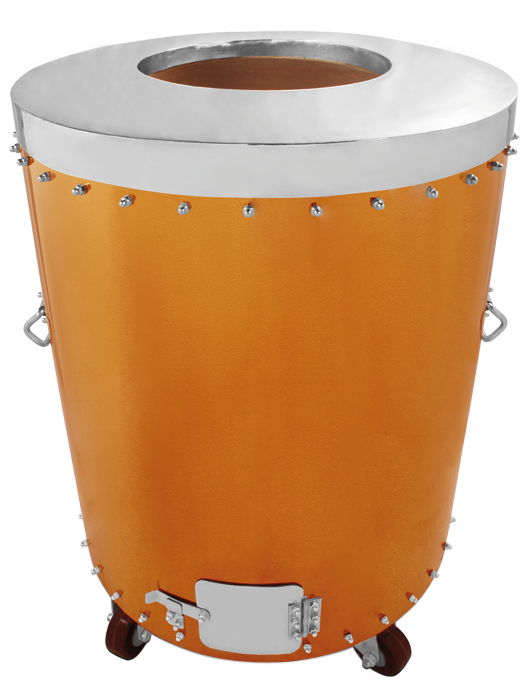 CORE MATERIAL
Terracotta clay
OUTER CASING
Copper
INSULATION
Double insulation with high temperature resistant glasswool ( First insulation is between the walls of the drum, and second insulation is between the clay tandoor and the drum.)
USAGE
Display Kitchens / Live Outdoor Catering
DIMENSIONS
Comes in few standard sizes. Refer to the size chart.
PORTABILITY
Portable
FUEL OPTIONS
Charcoal and Gas.
(Our Gas ovens are certified to meet the international standards)
USAGE ENVIRONMENT
Indoors / Outdoor
(Indoors it must be installed under ventilation hood)
CUSTOMISATION
Can be custom made in different sizes and design
TOP SURFACE
Steel, Copper or Stone (Not limited to the options)
ACCESSORIES
10 pieces of assorted skewers Top Mouth Cover and Cushion (gaddi)
WEIGHT
Please refer the product detail table
IMPORTABLE
Yes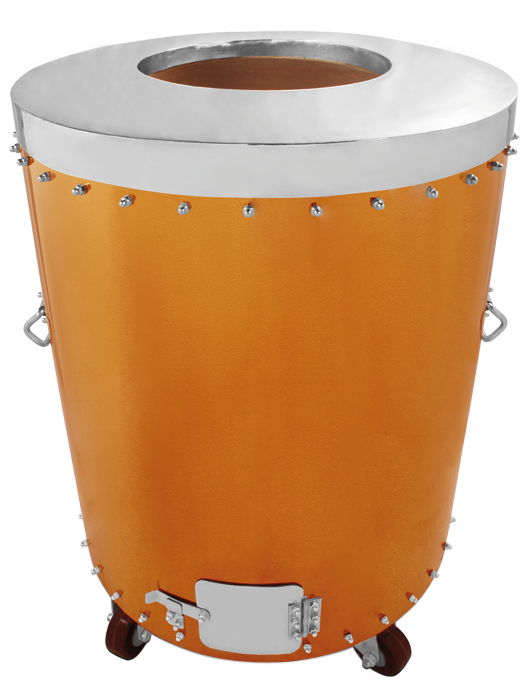 | MODEL NUMBER | OUTER DIA | HEIGHT | INNER MOUTH |
| --- | --- | --- | --- |
| CPM24 | 24 | 37 | 13 |
| CPM30 | 30 | 37 | 13.5 |
| CPM32 | 32 | 37 | 14 |
| CPM34 | 34 | 37 | 15 |
| CPM36 | 36 | 37 | 17 |