STAINLESS STEEL SQUARE TANDOOR
We are a manufacturer and supplier of stainless steel square tandoor, with a clay pot fitted inside the stainless steel casing. The clay tandoor inside the casing enhances the efficiency with an optimal heat transfer for cooking food items. Made from high grade 304 stainless steel, the tandoor has different handles for easy pulling, pushing and lifting. A concealed gas assembly enhances the aesthetical value of the tandoor. It has dual fuel options of charcoal and gas. The charcoal tandoor comes with the NSF certification whereas the gas oven is CSA certified.
The top surface has a superior finish with a thick stainless steel sheet. We can supply the tandoor with custom-made designs to best suit the needs of residential as well commercial kitchens. We can customize the top surface with options such as stainless steel, cemented, granite, and tiles to match the décor of all types of kitchens.
Available in different standard sizes and models, these stainless steel tandoors come with double insulation and high temperature resistance. The product is delivered with different accessories and the cushion for easy installation. With a weight of 300kg and above, the tandoor can cater to the needs of a variety of businesses, such as restaurants, food stalls, canteens and banquets.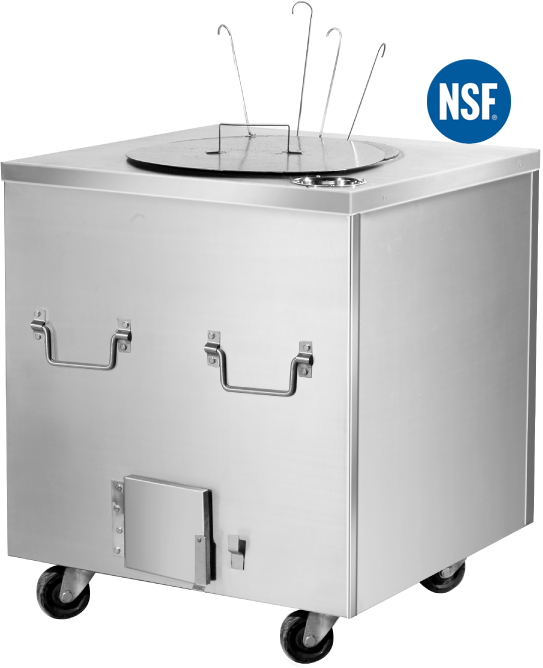 CORE MATERIAL
Terracotta clay
OUTER CASING
Grade 304 stainless steel grade
INSULATION
Double insulation with high temperature resistant glasswool ( First insulation is between the walls of the drum, and second insulation is between the clay tandoor and the drum.)
USAGE
Can serve a variety of businesses. It is best recommended for restaurants and banquets.
DIMENSIONS
Comes in few standard sizes. Commonly used model is SSC32.
PORTABILITY
Portable
FUEL OPTIONS
Charcoal and Gas
(Our Gas ovens are certified to meet the international standards)
USAGE ENVIRONMENT
Indoors / Outdoor
(Indoors it must be installed under ventilation hood)
CUSTOMISATION
Can be custom made in different sizes and design
TOP SURFACE
Tile, Stone, Metal, Cement
ACCESSORIES
10 pieces of assorted skewers Top Mouth Cover and Cushion (gaddi)
WEIGHT
Minimum 300 Kg
IMPORTABLE
Yes
SAFETY NORMS
Charcoal tandoor is NSF certified Gas Oven is CSA standard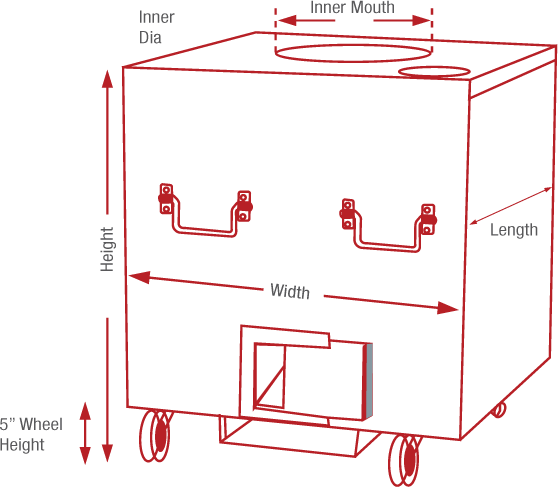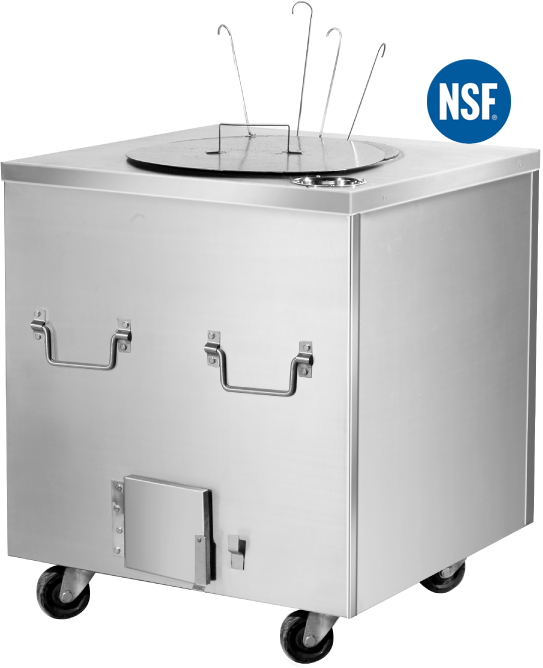 MODEL NUMBER
LENGTH
WIDTH
HEIGHT WITH WHEELS
INNER MOUTH
SSC28
28
28
37
13.5
SSC30
30
30
37
14
SSC32
32
32
37
15
SSC34
34
34
37
16
SSC36
36
36
37
17
All measurements are in inches.